What Is EQIP?
EQIP stands for the Environmental Quality Incentives Program. This is a program that is managed by the National Resources Conservation Service (NRCS) to provide resources and funding to agricultural producers within the United States who are looking to improve environmental concerns within their area.
How EQIP Works
The program works by having NRCS officers work in tandem with agricultural producers to create innovative and accessible conservation plans that work specifically with their operation. To put these plans into action and stick to them, these producers are funded with grants and other resources to help their businesses. All the while having the perk of helping the environment.
Environmental Benefits
EQIP began in 1996 and since then has helped to greatly improve the natural resources within America. Its many initiatives have provided extreme benefits that help to reverse the harmful effects of pollution and other man-made environmental hazards like excessive greenhouse gas and carbon emissions. Some of these benefits include healthier soil, reduced contaminants within agricultural sources, and environmentally cautious practices.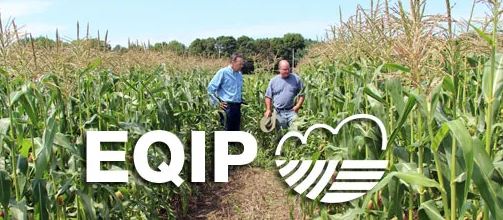 Current EQIP Initiatives
The EQIP is always looking for more initiatives to improve the quality of natural resources within the United States. Currently, the program helps fund six initiatives that help to better the air, water, and soil within the country. Along with its own initiatives, EQIP also supports competitive programs that are doing their part to help the planet through the Conservation Innovation Grants. Though some of their own initiatives include:
How To Begin
If you are interested in seeing if your agricultural operation or land is eligible for EQIP funding, you will need to schedule a meeting with your local NRCS office. To find your county's local office address and contact information, please click this link. Once you have scheduled a meeting with your local officer, a conservation planner will come to your property to survey the land and discuss your specific goals. After that meeting, your NRCS conservation officer will create a plan that works uniquely with your agricultural work and will include different ways that you can improve your daily practices to be more environmentally friendly.